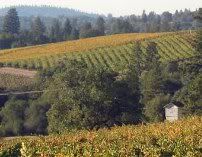 The Sacramento Business Journal's Celia Lamb reports that interesting things are afoot in California's El Dorado County.  Growers there have decided that just growing Merlot or Chardonnay isn't going to cut it anymore.  As a result, they have decided to venture out and try growing grapes that are "something to appeal to people's inquisitiveness," according to Greg Boeger, of Boeger Winery. 
The new grapes being grown include tinta cao, charbono, graciano, nebbiolo, refosco and tannat.  Many of these are used in blends.
I visited Boeger's tasting room near Placerville last weekend and, after reading an article all about Tempranillo in Sunset Magazine, I was interested in giving it a try.  A tasting room employee didn't recommend it - she said it only tasted good when paired with food.  Needless to say, I didn't purchase a bottle of Tempranillo (but I did purchase the Walker Zinfandel).
[Photo from El Dorado County]